Nov 1, 2020 • 14M
Many Americans *with* health insurance skip care over cost fears; open enrollment starts today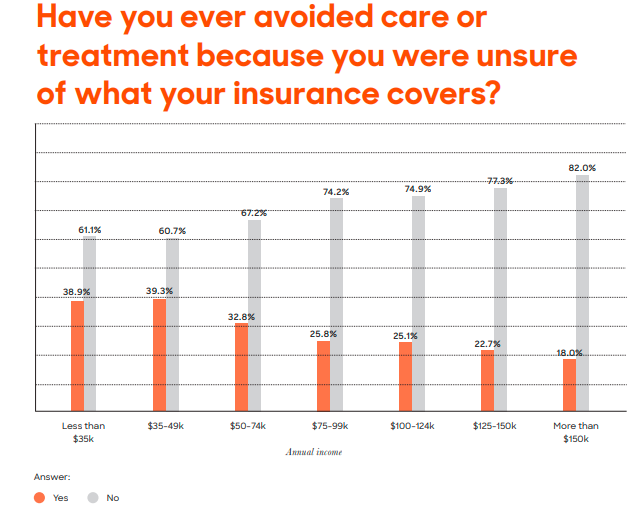 Policygenius chart
You're sick, and you pay for insurance, but you're still afraid to go to the doctor because of what it might cost. That's the reality for millions of Americans, suggests a new survey by Policygenius, an independent insurance marketplace and news site. Copays, deductibles, premiums...all these terms are still confusing to most Americans. This isn't some political football or a chance to score debate points. Health insurance illiteracy is a dangerous, potentially deadly problem in America.
As open enrollment for many 2021 health insurance plans begins today, I speak with Hanna Horvath, a data analyst at Policygenius, about the risks of not understanding your own health insurance.
A few points from the episode:
Even people who you'd consider well-off — earning $100,000 or more each year — often skip health care over coverage confusion.
From the study:
More than one in four people (27.2%) said uncertainty over their coverage had led them to avoid treatment. People making higher incomes were less likely to avoid care, but even among respondents making at least $100,000, nearly 20% said they had skipped treatment.
Politically-motivated misinformation has also contributed to a lot of confusion over Obamacare:
Only 5% of survey respondents could correctly identify basic Obamacare facts, including that you can get aid to buy a plan and there was no tax penalty for forgoing coverage. Almost 44% did not believe plans sold on Healthcare.gov covered legally required benefits like pediatric care or mental health care.
And, the main reason I send this note today: The vast majority of Americans are confused about when it's time to shop for health insurance. That time is … today!
Nearly nine out of ten Americans (87%) could not identify the correct timing of open enrollment for Healthcare.gov, the federal government's health exchange website, which runs from Nov. 1 to Dec. 15 this year.
Open enrollment at most healthcare exchanges begins today. Many workers who get insurance through their employees can also begin the process of switching plans now. So, take a break from doomscrolling about the election and check out your options, wherever you obtain health insurance. Listen to this podcast while you shop.
Hear previous episodes at http://redtapechronicles.com/
Also, VOTE!