'Deterrence' - 3.5 million Black voters labeled as targets for digital voter suppression effort
British TV outlet obtained massive Trump 2016 voter database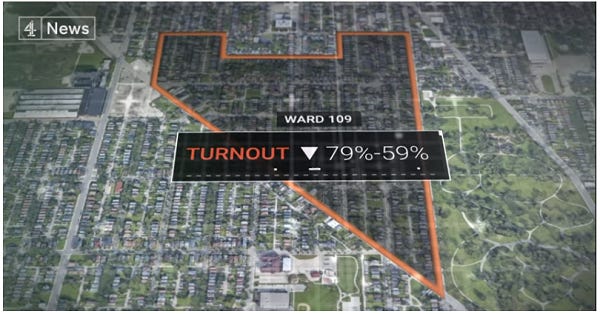 Black voters were labeled for "deterrence," and in states narrowly won by Trump, many stayed home on election day 2016. Click to watch Channel 4's exclusive reporting.
The Cambrdige Analytica scandal, and dirty digital electioneering tactics in general, are always going to be complex stories that are hard to get your head around. Like financial or digital crimes with no blood, they don't inspire the kind of visceral reaction they should. A box of ballots thrown in a river sparks immediate outrage, as would a picture of hooded men standing in front of a voting machine. Crunching billions of data points in an effort to psychologically manipulate voters can feel nearly harmless by comparison; standard 21st Century marketing, even.
The U.K.s Channel 4, however, recently found a pool of blood. Journalists there gained access to a massive database — 200 million voters strong — that was sliced and diced by the Trump campaign in 2016. What they found should feel just as terrible as a mountain of ballots discarded in a river. Armed with 4,000-5,000 data points about each individual, analysts profiled voters and lumped them into categories — then assigned 3.5 million Black voters to a group labeled "deterrence," considered vulnerable to a suppression campaign designed to depress the Black vote.
This isn't a story about a four-year-old controversy that everyone would rather move on from. It's not an attack on Republicans, or Trump, specifically. After all, President Barack Obama's campaign team practically invented political microtargeting during his presidential runs.
Trump's digital campaign just took a deeper, darker step in a race to the bottom that should be repulsive to anyone who cares about democracy. That's why the story needs to be told, and understood, and we owe Channel 4 a debt of gratitude. I'll explain it more here and offer some context, but all readers should really watch the deeply reported, 20-minute expose.
---
A big, ugly part of many election campaigns is convincing citizens who might vote for an opponent to stay home on election day. There is nothing new about this tactic — except databases, which have helped change this dark art into a science during the past decade.
It's no secret that the Trump campaign spent a lot of money convincing Barack Obama supporters — and specifically African Americans — to skip voting for Hillary Clinton in 2016. But thanks to ongoing investigations by Channel 4 in the U.K., we now know disturbing new details about how this was done. As the outlet reports, 3.5 million Black voters were lumped into a "Deterrence" category, specifically targeted with ads designed to lure them into electoral indifference.
Channel 4 says it obtained the so-called Project Alamo database, which had highly detailed information on 200 million voters — 4,000 to 5,000 data points for each voter. Channel 4 browsed this database to find individual Black voters lumped into this deterrence category, and actually went to Milwaukee, Wisconsin to interview several of them.
Former Trump campaign manager Brad Parscale, recently placed under psychiatric care in Florida after an alleged domestic violence incident in Florida, ran Trump's 2016 digital efforts.
The data in Project Alamo was strikingly accurate. One voter marked for deterrence was told she was a nurse's aide, and a renter earning between $25,000 and $35,000 year.
"That's correct," she told Channel 4. "I don't feel right by that at all…the Black community was targeted. …it makes me want to go out and vote more."
While people of all races were labeled deterrence, Blacks were far more likely to end up in the group. In state after state, there were about twice as many African Americans marked for deterrence than other races, as a proportion of the entire population. In Michigan, for example, 15% of residents are Black, but 33% of those marked for deterrence were Black, Channel 4 noted.
It's not an overstatement to call this work digital voter suppression; in fact, Trump election staff used that very term when BusinessWeek reported from inside the campaign about a week before the 2016 election.
"We have three major voter suppression operations under way," says a senior official. They're aimed at three groups Clinton needs to win overwhelmingly: idealistic white liberals, young women, and African Americans.
One method for suppressing the vote: Black voters were targeted with so-called "dark posts" — Facebook ads that didn't look like ads, and often contained searing anti-Hillary messages, such as the infamous "Super Predator" videos. The ads disappeared quickly, and Facebook has still not made them public.
It's important to note that obtaining most of the Project Alamo data — purchased from companies like Experian, Datalogix, Epsilon, and Acxiom, according to lawyer Joel Winston — was perfectly legal, as was sorting voters into unsavory-sounding categories. In fact, that's standard practice in digital marketing. Many of you readers are lumped into marketing groups like "urban scramblers," or "rural everlasting" or "financially challenged" or "empty nester wanna-bes."
Married to data from Cambridge Analyica which had been obtained from Faceook, it was potentially even more persuasive and insightful, and perhaps less legal. The Federal Trade Commission ruled in 2019 that Cambridge broke the law by deceiving Facebook users about how their data would be used, but that ruling was symbolic, as the firm had already declared bankruptcy.
It's unclear how much the supposed psychographic techniques used by Cambridge Analytica really work, or were even necessary. Trump's campaign has said in the past that algorithms were not required to learn that Wisconsin, Michigan, and Pennslyvania voters were critical to winning the election.
In an email exchange with me in 2017, Parscale told me his firm produced "over 100,000 pieces of programmatic content." At the time I was asking about the potential use of cheap, foreign labor — specifically Russian workers — to make such content, a widely-reported phenomenon, and at the time, the subject of a Trend Micro report.
"That was a nasty question. I have publicly stated multiple times that I absolutely nothing to do with Russia," he wrote to me.
It's also unclear whether the digital suppression campaign had any real-life impact. There's really no way to know, short of re-running the 2016 election in a fictional parallel universe. Black voter turnout did collapse in key states like Wisconsin — where it fell 19% — which Trump won by a razor-thin margin. Certainly some of that dropoff should be attributed to lower enthusiasm for Clinton than Obama.
Still, the dropoff is striking at the local level.
Channel 4's Krishnan Guru-Murthy visited individual voter wards in Milwaukee, where 70% of Wisconsin's Black voters live. In Ward 116, which is 80% black, half the voters were marked for deterrence. Overall turnout fell from 75% to 56%.
"There is a fine line between voted discouragement and voter suppression," Winston told me Tuesday. "Previously a negative campaign advertisement went into a newspaper, or maybe people went door to door. But here a lot of stuff went under the radar."
As we continue to learn about dirty digital tactics of the the 2016 presidential campaign, the more revolted we should feel by what technology is doing to democracy. Whether tactics like this are explicitly illegal or not, it should repulse anyone to learn it's possible to identify individual voters of color and microtarget them for messages of suppression.
This race to the bottom for political information — and misinformation — is a race no one can win, and it's essential to stop the madness as soon as possible.